Dotty Bee Twin Mixed Bouquet - Blue & Pink
RELATED PRODUCTS
PRODUCT DESCRIPTION

DOTTY BEE TWIN MIXED BOUQUET - BLUE & PINK
The Twin Mixed Bouquet is a hand finished bouquet of mixed baby socks and bodysuits making a perfect gift for twins.
Made up of two individual bouquets, one for each twin, but with an overall effect of one beautiful bouquet. The pink bouquet contains 5 pairs of socks and 2 bodysuits in pink and white for a girl. The blue bouquet contains 5 pairs of socks and 2 bodysuits in blue and white for boy. A delicately finished new baby twin gift with blue and pink floral wrap, silk flowers and tied together with a ribbon.
There's a gift tag to add a personal message, so you can send it straight to the recipient and another tag with care instructions.
This product is free to deliver anywhere within Hong Kong!
Twin Mixed Bouquet contains:
| | |
| --- | --- |
| 10 x Pair of Socks | 4 x Bodysuits |
| | |
All clothing in our baby gifts are generously sized 3-6 months, ensuring it will fit a larger baby and giving the recipient plenty of time to enjoy the bouquet before unwrapping the flower buds to reveal the clothing inside.
Our Product #: 184328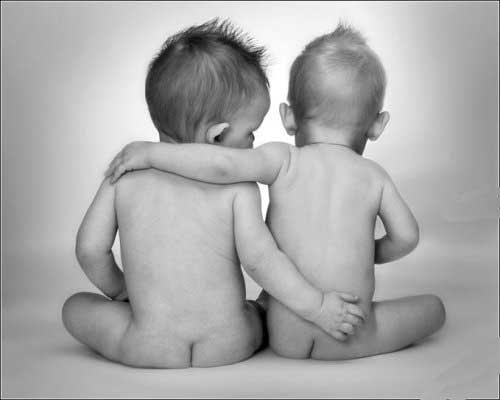 Become a "Babycentral Friend Forever" and save 10%* at checkout!
It's as easy as...
our Facebook Page
Add SG$180 or more of items to your cart**
Get 10%* off immediately and on all future purchases
* Excludes food, formula, nappies and sales items
* Your cart total must reach SG$180 after the application of any discount coupon or reward points